Dear friends,
We are extremely honored to announce that as a leading manufacturer of ceramic tableware and stainless steel tableware, we will be participating in Gifts Lifestyle Middle East on November 21, 2023 in Dubai.
We will show you our unique and diverse product range with carefully designed and manufactured ceramic tableware and stainless steel tableware. Whether it's a family gathering, a hotel meal or a special occasion, our tableware can create the perfect dining experience.
To suit every taste and need, our ceramic tableware covers classic, modern and artistic styles. Stainless steel cutlery, on the other hand, is known for its durability and superior quality. Whether you're looking for elegant bowls and plates, sophisticated mugs, or functional dinnerware sets, we've got you covered.
In addition, we will also provide customized services to design and produce unique tableware products according to customer needs.
At the exhibition, our team will wholeheartedly provide you with professional consultation and presentation. You can experience our products for yourself and learn more about our company.
We sincerely invite you to visit our booth, discuss cooperation opportunities with us, and share a successful future. During the exhibition, we will provide special offers and discounts to thank you for your support and attention.
Date: November 21-November 23, 2023
Booth number: Hall 5 5B35
Exhibition location: Middle East Exhibition Center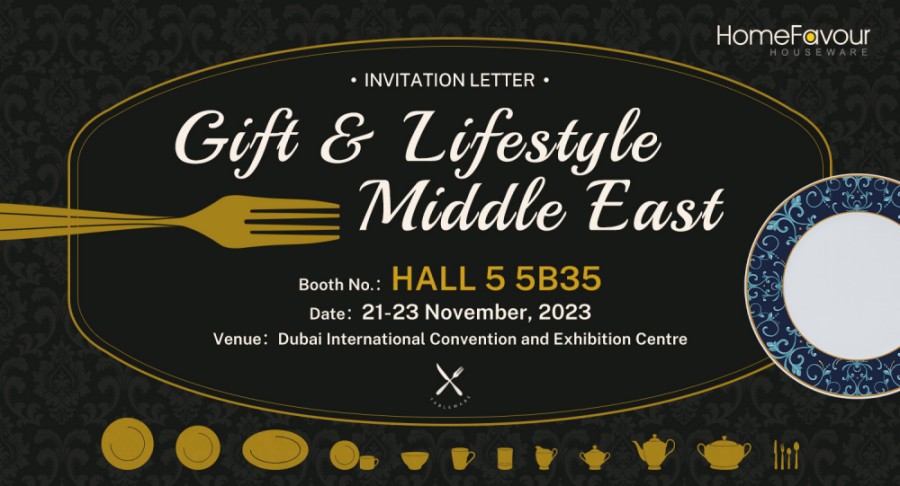 If you are interested in our products or would like to make an appointment to meet with us, please leave your contact information in the message area. We will respond to your needs immediately.
Thank you for your attention and support, and we look forward to meeting you at the exhibition!
with best regards,
H.F. HOUSEWARE LIMITED