Introduction of stainless steel flatware set
Introduction of stainless steel flatware set
Differences in Steel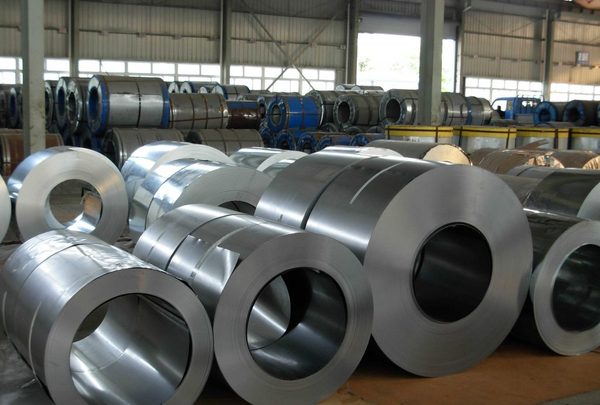 In metallurgy, stainless steel is defined as a steel alloy with a minimum of 11.5% chromium content by mass. Stainless steel does not stain, corrode or rust as easily as ordinary steel (it 'stains less'), but it is not stain-proof. For example, mayonnaise left on a knife blade in the sink seems to stain the blade a darker color.
There are different grades and surface finishes of stainless steel to suit the environment to which the material will be subjected in its lifetime. Stainless steels have sufficient amount of chromium present so that a passive film of chromium oxide forms which prevents further corrosion. Stainless steel's resistance to corrosion and staining, low maintenance, and affordability make it an ideal base material for a host of commercial applications including flatware.
There are different types of stainless steels: when nickel is added, the austenite structure of iron is stabilized. This crystal structure makes such steels non-magnetic and less brittle at low temperatures. For greater hardness and strength, carbon is added. When subjected to adequate heat treatment, these steels are used as razor blades, cutlery, flatware, etc. A typical composition of 18% chromium and 8% nickel, commonly known as 18/8 stainless, is often used in flatware. 18/8 has approximately 18% chromium, and from 8-10 percent nickel. The nomenclature 18/8, and 18/10 are sometimes both used to represent the same type steel. 18/0 has 18 percent chromium, and no nickel. This common steel is often used in flatware sets as it combines the stain resistant elements of 18/8 at a lower cost. In recent years the price of nickel has increased by tenfold.
Care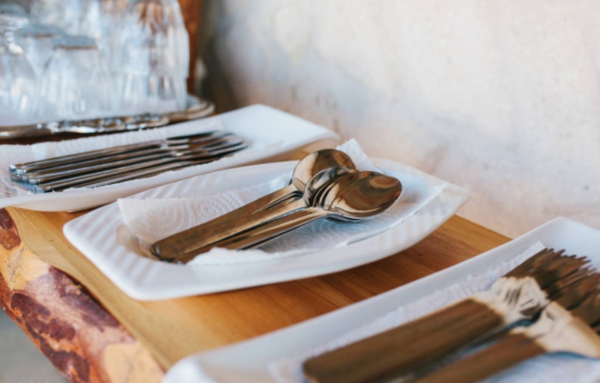 Most stainless steel spoons and forks are marked with their steel chemistry; usually 18/0, 18/8, or 18/10. All of these compositions should give you years of use with limited maintenance. If you notice discoloring, or small oxidation marks on your stainless, it can usually be cleaned off with hot soapy water, and a sponge. If that doesn't so the trick, use a good quality stainless polish. Often, a rust spot on your flatware is not the flatware itself, but a dissimilar steel peeler or other item leaning against it in the dishwasher. There are many unique finishes available on flatware these days. The most durable and stain resistant is a high gloss mirror finish. A smooth mirror finish leaves little for oxidizing agents to attack. Satin finish (also known as brushed) breaks the surface of the steel, so it is more prone to staining. However, satin finishes, like on our Norse pattern, can be revitalized simple by scrubbing (in the direction of the 'grain') with a scotch-brite pad, or very fine steel wool. This cleans off the surface, and adds more micro scratches. Don't try and scrub a frosted (also known as sand blast, or bead blast) finish, such as Pendulum. Just use a good stainless polish and a soft cloth.
Hammered : Our Most Popular Pattern
Hammered is a beautiful rendition of the hand hammered flatware of the colonial period. If a rustic, hammered look is what you're going for, look no further than Hammered pattern. With its hammered finish and clean design, the flatware pattern is ready for everyday use. From kids to your most distinguished guests, the Hammered collection is sure to please. We offer this pattern in a variety of ways; Set of 20, Set of 42, 5-piece place setting, 4-piece hostess set. All pieces are made from 18/0 stainless steel and are dishwasher safe.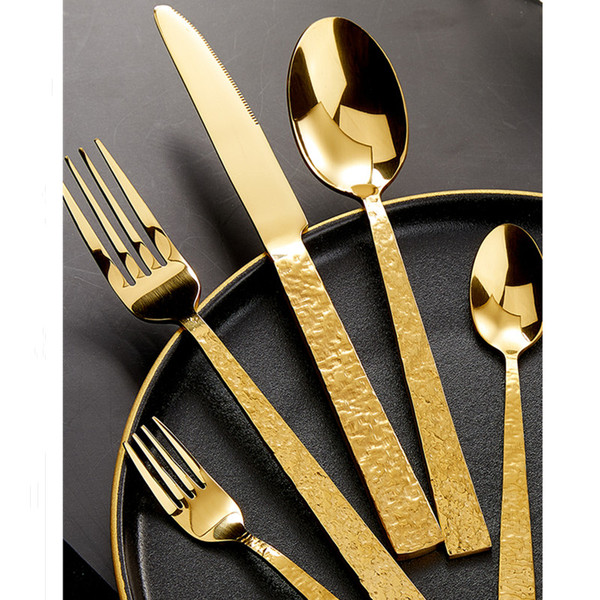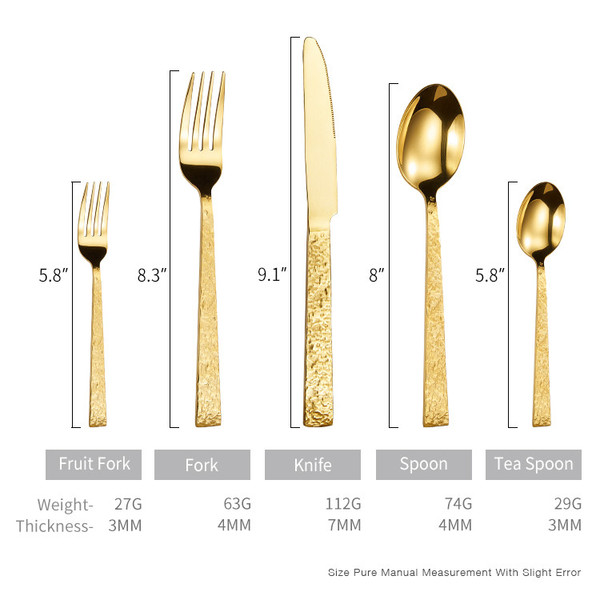 In addition to the golden flatware set , silver and black are available for selection. If you want to inquire about a quotation, please contact us for customization, and leave your email or mobile phone. After we receive it, we will reply to your flatware set price in time.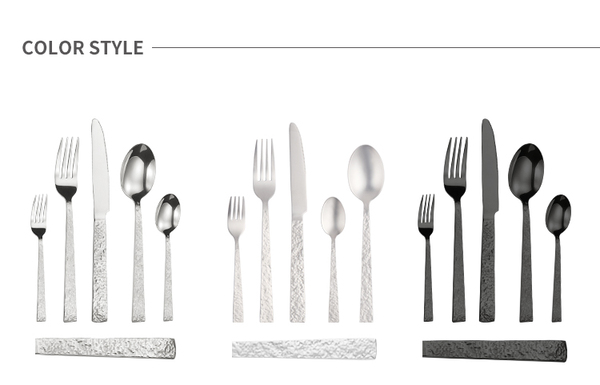 Article classification:
News
SEND YOUR MESSAGE TO THIS SUPPLIER